XTOP Mobile Sushi Machine TSM-13
XTOP Mobile Sushi Machine TSM-13
Model 
TSM-13
Production capacity

1,200 sushi balls per hour with 16, 18, 20, 22 or 24g rollers

960 sushi balls per hour with 26 or 30g rollers

Roller unit (Nigiri size)

Normal: 16/18/20/22/24/26/30g

Towara: 25/30g

Sushi rice capacity
1 kg
Voltage
100-240V
Power 
13W
Weight
6 kg
Dimension (L x W x H)
170 x 340 x 350 mm
The TSM-13 is the smallest and the lightest electronic nigiri machine in the world. Not only taking up a small amount of space in your kitchen, but also it doesn't even need to be plugged in to work. This machine was specially designed for people that do catering or sushi banquets and demonstrations and that do not have even time or people to do it by hand. It's super small size(Wide 170 x Deep 340mm) means you do not need to permanently use up kitchen space with this electronic nigiri machine, you can just clean it and put it away until the next time. With a production capacity of up to 1200 pieces of nigiri sushi per hour this small electronic nigiri machine is the best in it's category.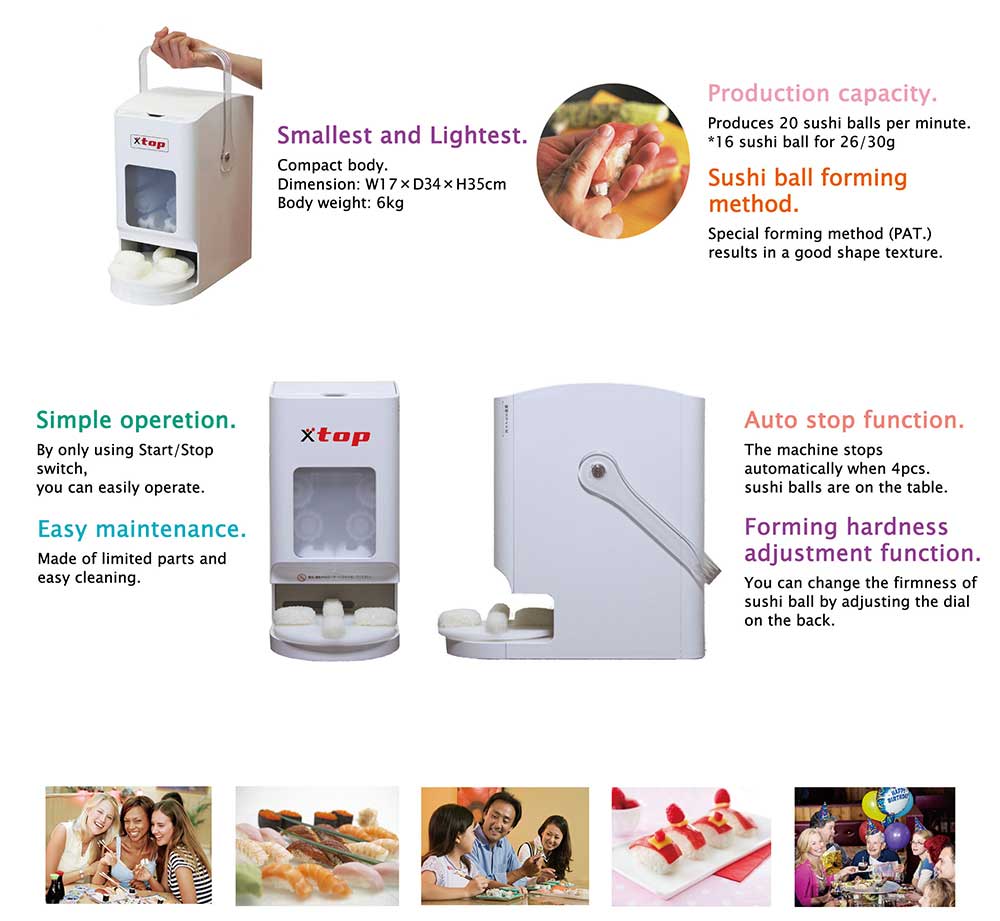 Features
High Quality Motor - Uses Japanese manufactured motor with overheat protection.
IP67 Sensor - Waterproof and oil resistance.
Stainless Steel - Main parts are made of stainless steel 304 to prevent rest and have strong structure.
Strong Machine - The body of the machine is made with material that is shock, dirt, and heat resistant.
Easy to Fix - The main electrical components are harness type, which can be easily replaced in case of failure.
Non-Stick Hopper - The hopper is coated with high-quality Teflon Dupont that prevents rice for sticking.
Easy Operation - Simple operation with a start and stop function.
Easy to Clean - All parts can be taken out easily for cleaning. 
Automatic Stop Sensor - An automatic stop sensor activates and turns off the turn table if it has reached capacity ensuring clean production.
Easily Washable - It takes only 40 seconds to remove all washable parts. The device can be cleaned once a day for hygienic purposes.