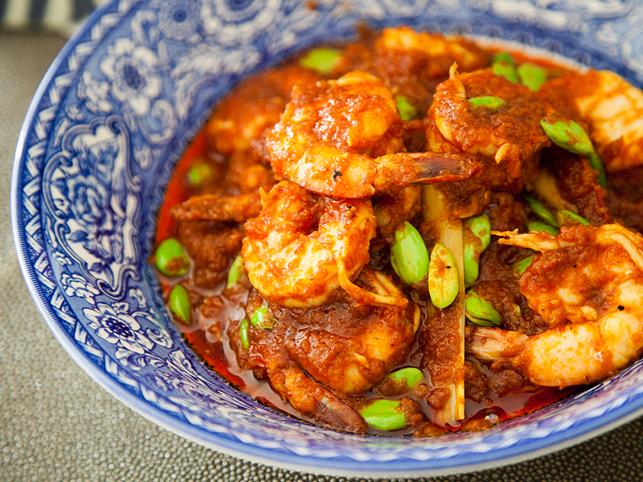 INGREDIENTS
205g petai, peeled
565g prawns, shell removed but with tail intact
115g white onion, peeled
172g red onion, peeled
33g garlic, peeled
22g (about 2 stalks) serai, the lower half
12g ginger, peeled
7g galangal, peeled
1g (about one leaf) kaffir lime
12.5g belacan
80g tamarind paste
76g gula Melaka, shredded
150g cili boh paste
3g salt
1/8 teaspoon black pepper, pounded
235g water
90g cooking oil 
DIRECTIONS
Blend white onion, red onion, garlic, galangal, ginger and belacan until smooth. If needed, add water to hasten the process. Set aside.
In a medium sized pot, heat vegetable oil.
Flatten lemongrass stem with a knife and place into the pot when the oil has heated up.
After 30 seconds, add in the blended ingredients into the pot.  Stir fry all ingredients in the pot together for 5 minutes.
Put in the cili boh paste and stir fry for 2 minutes until the sambal cooks (pecah minyak).
Combine 85g water with tamarind paste and stir until well-combined. Pour the tamarind juice into the pot with a strainer and squeeze the juice from the tamarind pulp. Stir until well-combined.    
Add in 150g of water and shredded gula Melaka. Stir until well-combined.   
Add in the kaffir lime, black pepper and salt. Stir until well-mixed. Then, stir for 10-12 minutes as it simmers until the sambal cooks completely. Keep in mind to stir until the bottom and sides of the pot to ensure sambal does not burn.
Add in prawns and stir. Avoid overcooking the prawns. This should only take 3-4 minutes.  
Lastly, add in the petai. Stir for a minute.
Turn off stove and dish into a serving bowl. Enjoy with plain rice or nasi lemak.
                                                                                                                                                                                                                                      (Source: Butterkicap)