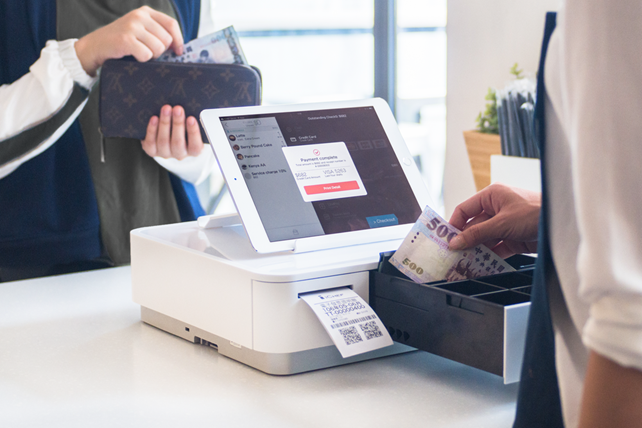 Point of sale system, or commonly abbreviated as POS system, is a tool that manages business transactions and streamlines your daily operations. Hardware and software are the 2 main components that make up a POS system. In many cases, the POS hardware includes register screen, barcode scanner, credit card reader, receipt printer and cash drawer.
It also plays an important role in optimizing the overall system performance. If you are in a fast-paced environment, such as the foodservice industry, then it is crucial to get a POS system to help your business run more efficiently.
When it comes to choosing a POS system, you should think about how the systems can increase your business productivity and help you enhance customers' experience. To put your mind at ease, here are the three main features to consider when choosing a POS system for your business.
User-friendliness
Having a user-friendly graphical interface is essential. Simple and pleasant looking interface enables the users to navigate the system in just a few clicks or tap, creating the best possible user experience. Overly complicated and hard to use interface is more likely to cause confusion, which ultimately leads to a congestion situation and slows down the operations. With a highly functional interface that is easy to understand and access, you can speed up the entire process with great ease of mind.   
Functionality
POS system has evolved significantly over recent years to keep pace with the growing demands of business. Many POS systems can process multiple types of payments, giving customers the flexibility in using gift cards or loyalty points to settle the bills. Apart from the sales transaction, the latest POS systems can perform more complex functions including tracking capabilities, placing orders, managing labour and inventory management, just to name a few. The multitude of functions and features not only help to improve efficiency, but also enhance the customer experience.
Mobility
Mobility is of the utmost importance for every business, especially high-volume restaurants. Hand-held POS system is a better choice during peak hours as it offers quicker service. Whether it is taking orders, sending orders to the kitchen or handling payments, all the tasks can be accomplished virtually anywhere, thereby streamlining the operations and minimizing customers' wait times.     
There are many different types of POS systems available on the market to accommodate the needs of different types of businesses. Hence, it is always best to choose the one that best suits your specific business needs.